About Our Product
Real roses, orchids, leaves and other gifts of nature. Yes, each piece in this collection contains a Real Item of Nature: hand-picked, carefully selected, sized and preserved to bring beauty and grace into your environment.

A very delicate process has been done by our trained artisans to protect their natural shape and color by coating them with lacquer or dipping them in copper to keep their natural veins visible. They are then dipped in precious metals such as 24k gold, silver, iridescent copper and some of them are lacquered and trimmed in gold. This step by step procedure usually takes at least seven days of creative processing from start to finish.

Hand-crafted and transformed into a timeless beauty of nature that you can treasure forever.

The result is a wonderful work of art that begins from Nature and ends with Treasure.
About Us
The Rose Lady was established in 1981- retail and 1993- wholesale.

"Look deep, deep into nature and you will understand everything better"
~ By Albert Einstein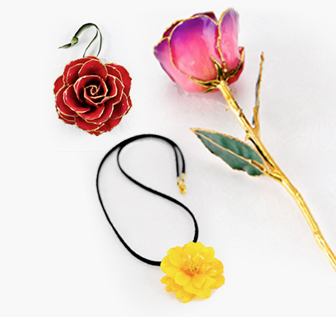 This quote is only one example of how important nature has always been in our everyday life. When we think of Nature, usually we immediately think of flowers and trees and their cones and leaves. They add grace and warmth to our surroundings. Their beauty inspires and comfort us. They reminds us that no matter how strong the storm is we always rise up the next time the sun shines.

And this is what inspires us to do what we do…

The Rose Lady, specializes in real items of nature such as roses, orchids and leaves turned into a marvelous pieces of art that anyone will be proud to give and thrilled to receive.

Our goal is to bring people closer to nature by presenting them with a marvelous collection of real nature products preserved in their majestic beauty.

After almost four decades The Rose Lady's deep love of nature has grown tremendously; memories from childhood roaming around her Southern Indiana Farm, visit to national parks and other places of natural beauty continue to nurture this love, Since then, with help of our loyal customers, our business has grown and thrived. We promise to continue to bring you an exquisite array of real nature products preserved in precious metals.

The Rose Lady is proud to present the latest in our nature inspired collection. We hope that you will enjoy and treasure these marvelous pieces of art.